Review: Genting Casino Nottingham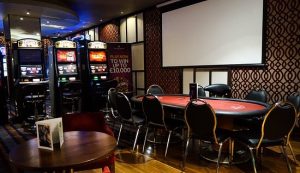 The Malaysian casino group Genting started life in 1965 with the Genting Highlands Resort, and now boasts 42 casinos in the UK. The Genting Casino Nottingham has positioned itself as a trendy place for a fun-filled night out. They aim to attract a slightly more polished crowd, and as such, they enforce a dress code. Their website informs first-time visitors that a James Bond tux is an overkill, but that smart casual is the way to go. Jeans and trainers are fine, as long as they look somewhat smart, but football shirts and sleeveless wifebeater vests are definitely out. They don't require membership but registering as a member does offer many benefits to visitors.
Genting Casino Nottingham isn't just about gambling. People looking for a night out can visit the late bar, which is open from 12 PM to 6 AM every day. Peckish patrons can order bites to eat from the all-day menu from 1 PM to 4 AM. They display live sports on their 10 foot HD screen, and often also offer night outs for high profile events, such as boxing matches and cup finals. Many other dining and entertainment options are available at the Cornerhouse Centre, where the Genting Casino is situated.
Gambling is the lifeblood of casinos, and Genting Nottingham doesn't disappoint. They offer live and electronic versions of Roulette and Baccarat, and a variety of table card games. Genting also offers an online casino and online sports betting.
Visitors to the casino and Cornerhouse can benefit from double loyalty programmes. Cornerhouse offers the Cornerhouse Card, which allows for many discounts on food, entertainment, and the tramway. Genting offers Genting Rewards, which allow customers to earn points at the gaming tables, slots, restaurants, and bars at Genting casinos. Points can be used in lieu of cash for gaming, food, and drinks.