Review: A night out at Nottingham Greyhound Stadium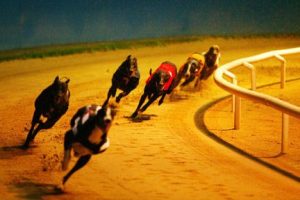 They say that dogs are a man's best friend. These humble beasts have been bred to be hunters, protectors, and companions. It's their ability as hunters that gave rise to greyhound racing, and you can catch all the action at the Nottingham Greyhound Stadium. You can also place bets on your favourite racing dogs, and stand a chance to win big.
Greyhound racing grew out of a form of hunting known as coursing. Sighthounds were bred for this purpose. These kinds of dogs are bred to hunt with their superior speed, while keeping sight of their prey, rather than by sniffing it out. As a sport, two dogs, mainly greyhounds, chased after an animal until they run it down and kill it. Eventually, it was adapted to a sport with an artificial lure on a closed straight course in 1876. This was not popular at the time. An American version was introduced in 1926, using a mechanical hare and an oval track. Today, there is registered racing, regulated by the Greyhound Board of Great Britain (GBGB), and independent racing. Nottingham Greyhound Stadium is a registered venue.
Nottingham Greyhound Stadium offers a great night out since all of their races take place in the evening. There are three bars with very reasonable prices, including a snack bar, and both with upstairs and downstairs seating areas. You can dine in style at the restaurant, which offers a panoramic view of the stadium so you can keep an eye on the racing action while eating. There is reserved seating for 390 people. You can also place tote bets right from your table.
The stadium itself offers tote betting, but there are also other options available. Independent bookmakers are available around the stadium, offering fixed odds. You can also visit the William Hill betting office, where you can bet on greyhound racing and much more.